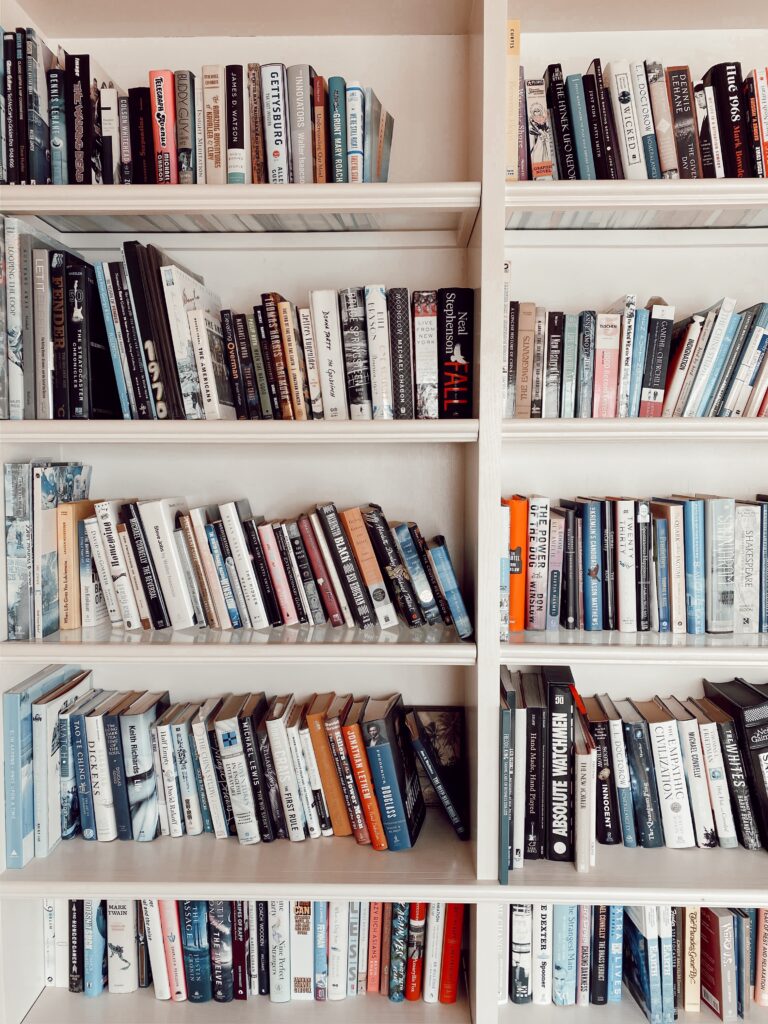 I read as much as I can, and this past year was no exception. Here are all of the books I enjoyed — some more than others — omitting my embarrassing collection of guilty-pleasure Kristin Hannah novels. I did a list earlier this year that you can find here.
❤️ it was ok
❤️❤️ I enjoyed it
❤️❤️❤️ absolutely loved
Non Fiction: 
The Body, Bill Bryson ❤️❤️❤️
A "head to toe tour of the marvel that is the human body." I found this fascinating and unputdownable.
The Inflammation Spectrum, Dr. Will Cole ❤️❤️❤️
An organized, easy to understand guide to eliminating inflammation (and it's subsequent health manifestations) to achieve true balance and harmony.
The Year of Magical Thinking, Joan Didion ❤️❤️❤️
An intensely honest account of marriage, loss and mourning.
Life Undercover: Coming of Age in the CIA, Amaryllis Fox ❤️❤️
Amaryllis Fox's riveting memoir tells the story of her ten years in the most elite clandestine ops unit of the CIA, hunting the world's most dangerous terrorists in sixteen countries while falling in love and giving birth to a daughter.
Talking to Strangers, Malcolm Gladwell ❤️❤️❤️
A powerful examination of our interactions with strangers — and why they often go wrong.
Recovering from Reality, Alexis Haines ❤️❤️❤️
Alexis' memoir is equal parts juicy and inspiring. She has lived so much in her short life and has great wisdom and insight to impart for anyone struggling with trauma, addiction or just growing pains.
Howard Stern Comes Again, Howard Stern ❤️❤️
A collection of interviews and insights with rock stars and rap gods, comedy legends and A-list actors. Supermodels and centerfolds. Moguls and mobsters. And of course, a president.
Incredibly popular coming of age memoir about escaping a survivalist family and pursuing formal education as a means to a better life.
Fiction:
War:
Everyone Brave is Forgiven, Chris Cleave ❤️

The story of three unforgettable individuals thrown together by war, love, and their search for belonging in the ever-changing landscape of WWII London.

The Nightingale, Kristen Hannah ❤️❤️❤️

The story of two sisters in France during World War II and their struggle to survive and resist the German occupation.

The Winemaker's Wife, Kristin Harmel ❤️

The story of two women in France in the darkest days of World War II and another in present-day America on a quest to uncover the secret that connects them.

The Room on Rue Amelie, Kristin Harmel ❤️

A story of an American woman, a British pilot and a French girl whose lives intertwine in Paris during World War II.

The Tattooist of Auschwitz, Heather Morris ❤️

A harrowing story of falling in love and survival in the worst possible conditions.

The Secrets We Kept, Lara Prescott ❤️

A thrilling tale of secretaries turned spies, of love and duty, and of sacrifice–inspired by the true story of the CIA plot to infiltrate the hearts and minds of Soviet Russia, not with propaganda, but with the greatest love story of the twentieth century: Doctor Zhivago.
Thrillers:
The Woman in the Window, AJ Finn ❤️❤️

A psychological thriller that explores what is real and what is imagined, and will make the reader question every character right until the end.

Force of Nature, Jane Harper ❤️❤️

The spooky story of the search for a woman who goes missing in the Australian wilderness in Harper's followup to The Dry, 2017.

Then She Was Gone, Lisa Jewell ❤️❤️

Ten years after her teenage daughter went missing, a mother begins a new relationship only to discover she can't truly move on until she answers lingering questions about the past.

The Couple Next-door, Shari Lapena ❤️❤️

A domestic suspense debut about a young couple and their apparently friendly neighbors—a twisty, rollercoaster ride of lies, betrayal, and the secrets between husbands and wives.

The Silent Patient, Alex Michaelides ❤️❤️❤️

A shocking psychological thriller of a woman's act of violence against her husband―and of the therapist obsessed with uncovering her motive.

Nine Perfect Strangers, Liane Moriarty ❤️

Nine people gather at a luxurious health resort in the Australian bushland. Will they have sex, fall in love, get killed, or maybe just lose weight?

The Perfect Nanny, Leila Slimani ❤️

The story of a murderous nanny that explores not the who but the why.
Family & Relationships
The Rest of the Story, Sarah Dessen ❤️

The story of a girl who reconnects with a part of her family she hasn't seen since she was little —and falls in love, all over the course of a magical summer.

Tender is the Night, F. Scott Fitzgerald ❤️❤️❤️

The darkest and most autobiographical of Fitzgerald's novels, Tender Is the Night tells the story of Dick and Nicole Diver's crumbling marriage set against the backdrop of the riviera.

All We Ever Wanted, Emily Giffin ❤️

The day after her son is accepted to Princeton, he makes a terrible decision, and Nina's perfect life comes crashing down. A compelling portrait of a woman facing the difficult limits of love.

Satirical novel that follows gay writer Arthur Less while he travels the world on a literary tour, as his fiftieth birthday looms.

Ask Again, Yes, Mary Beth Keane ❤️❤️❤️

A profoundly moving novel about two neighboring families in a suburban town, the friendship between their children, a tragedy that reverberates over four decades, the daily intimacies of marriage, and the power of forgiveness.

The Last House Guest, Megan Miranda ❤️

Suspenseful novel about an idyllic town in Maine dealing with the suspicious death of one of their own—and her best "summer" friend, who is trying to uncover the truth…before fingers point her way.

Commonwealth, Ann Patchett ❤️❤️❤️

Enthralling story of how an unexpected romantic encounter irrevocably changes two families' lives.

My Absolute Darling, Gabriel Tallent ❤️❤️❤️

A 14-year-old girl, isolated from her peers, struggles to escape her survivalist father's emotional and physical abuse in this harrowing novel.

Before We Were Yours, Lisa Wingate ❤️

The interwoven storylines of Avery Stafford, a lawyer from a prominent South Carolina family, and Rill Foss, the eldest of five children who were taken from their parents' boat by an unscrupulous children's home in the 1930s. Covers the abuse and separation that the Foss siblings suffer at the hands of the Tennessee Children's Home Society, a real-life orphanage that profited from essentially kidnapping children from poor families and placing them with prominent people.