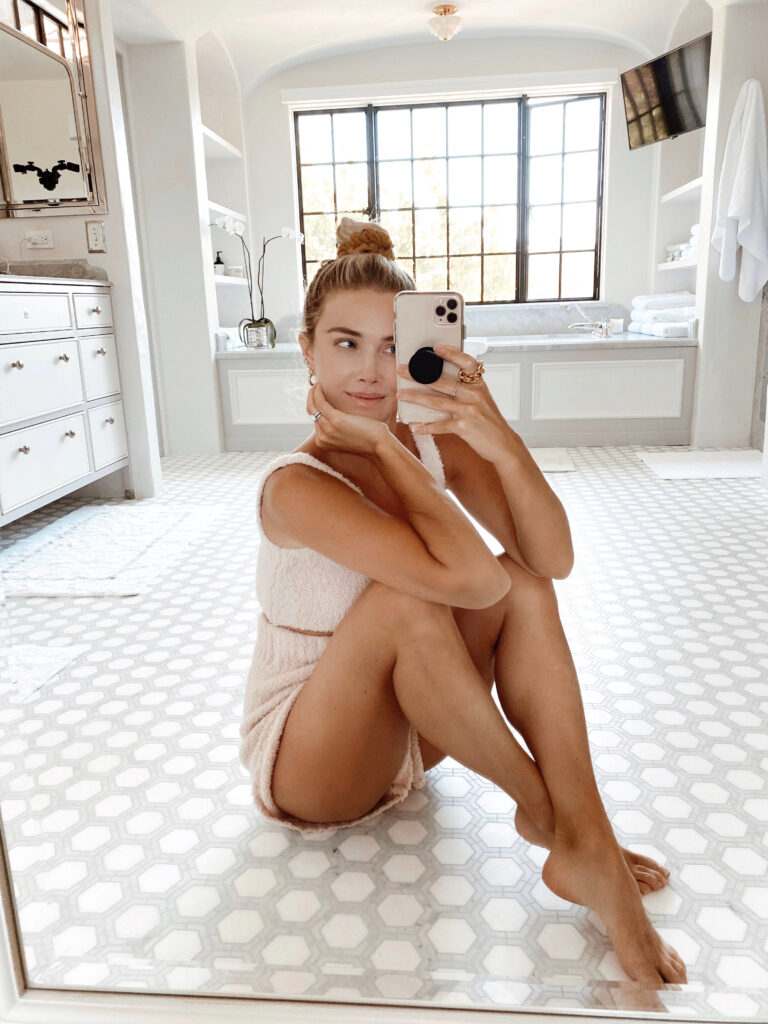 As the world is telling us to slow down, I've been extremely grateful to enjoy lots of time at home. With the uncertainty of the outside world constantly manifesting waves of fears and anxieties, it's important now more than ever to take care of our mental health. One way I'm doing that is by elevating my skincare rituals to ease my mind and reconnect with my body.
Treating yourself to a much-deserved facial may seem like a far-off luxury right now – but who says you can't achieve a spa-quality experience at home? Here are 7 steps for some serious self-pampering.
Create ambiance
An authentic spa experience can't be achieved without setting the mood. We're constantly surrounded by all sorts of noise, so it's important to create an ambiance and setting where you can destress and unwind. This can look like slipping into something comfortable (like these loungewear basics), lighting a candle, putting on a relaxing meditation, and making yourself a matcha or snack (I've been loving these cookies!).
Cleanse
Any type of facial starts with a good cleanse in order to prep the skin and start with a clean canvas. Start by melting away makeup with makeup removing wipes or an oil-based cleanser (if you're double-cleansing) and giving your skin a good cleanse. A good facial cleanser will remove any dirt, product build-up, excess oils and other impurities from the skin. My current skincare routine includes this cleanser morning and night.
Exfoliate
Now it's time to scrub off the dead skin cells with an exfoliant, which allows your products to better penetrate the skin. Exfoliating also helps smooth and brighten your skin, leaving you looking glowy. Depending on your skin type, you can either use a chemical or physical exfoliant. I like to pay extra attention to my problem areas, like my T-zone, that may be oiler or have clogged pores.
Steam
Steam does a great job of softening the skin, opening the pores and increasing circulation – and there are two ways to do this at home. In true DIY style, you can fill a bowl with hot water, add a mix of lemon slices, tea, herbs or essential oils and hover your face over the bowl for 5-10 minutes. Covering your head with a towel will help trap the steam in. Or, you can buy an easy-to-use facial steamer like this.
Mask
Your skin could use an extra boost of nourishment and hydration after cleansing, exfoliating and steaming, and I love how masks give its radiance back. I like to choose my face mask based on whatever current issue my skin is facing. Massaging in the mask and letting it gently steam on your face instead of just quickly smoothing it on will improve how glowy your skin looks afterward.
I decided to become more mindful when it comes to incorporating clean beauty products into my beauty routine – and I didn't have to look further than my kitchen. These DIY face mask recipes can easily be made with natural ingredients found in your pantry.
Tone
Toners are like the primer for skincare routines. On top of prepping your skin for a serum or moisturizer, they also help balance the skin's pH levels, even out your skin tone and remove any remaining dead skin cells and residue.
Moisturize and massage
Moisturizing is a can't-miss step that hydrates the skin and helps it retain the moisture it's lost. After you layer on your favorite serum, moisturizer and eye cream, give yourself a facial massage to complete your at-home facial. Facial massages can promote blood circulation and lymphatic drainage, improve muscle tones and reduce puffiness, fine lines and wrinkles. Beginning at the chin, I like to stroke upwards and outwards, following a similar pattern all over my face – but being careful on the delicate skin around my eyes. Whether you use your fingers, a roller or a gua sha tool (a wellness trend I've been keeping my eye on this year!), make sure you massage up versus down to achieve that natural facelift.
Are at-home facials a part of your skincare ritual? I'd love to hear your spa-worthy tips.